ROMA ELEGANCE SLIDE-OUT
We've packed everything including the kitchen sink, so you don't have to! Enjoy superb comfort and gorgeous décor.
The special Elegance On-Site adds room, whether in the kitchen or in the bedroom or, you can have extra room in both!
Exterior
The sleek exterior of our vans echoes their state-of-the-art technology. Everything has been designed to incorporate optimum safety and convenience. Beautifully finished exterior provides both lightness and strength..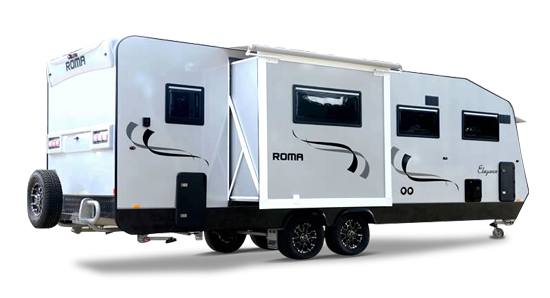 Interior
Whenever you want a break from just step into this comfort zone.
All furniture is made with CNC precision and carefully designed for maximum quality, ease of use, clever storage, and tasteful, easy to care for finishes. There is a fully equipped kitchen, comfortable seating, a queen bed and full en-suite
Make precious memories together.